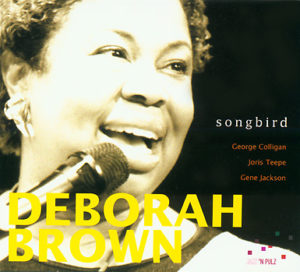 Songbird
Jazz 'N Pulz
BMCD 397
1) Alone Together (Arthur Schwartz / Howard Dietz)
2) Call It Whatcha Wanna (Johnny Griffin / lyric by Mike Hennessey)
3) Emily (Johnny Mandel / Johnny Mercer)
4) Gee Baby, Ain't I Good To You? (Don Redman / Don Redman & Andy Razaf)
5) Long Distance Love (Hea Young Na & Joris Teepe / Deborah Brown)
6) Medley:
Songbird (Loonis McGlohon)
April In Paris (Vernon Duke)
I've Grown Accustomed To Her Face (A. J. Lerner / F. Loewe)
7) Nobody Else But Me (Jerome Kern / Johnny Mercer)
8) Weaver Of Dreams (Victor Young / Jack Elliott)
9) A Little Tear (Eumir Deodato and Paulo Valle / Ray Gilbert)
Deborah Brown – vocals
George Colligan – piano (left)
Joris Teepe – double bass (right)
Gene Jackson – drums (middle)
Produced by: Joris Teepe
Executive Producer: Bob Hagen
Recording: Manfred Knoop New Jersey, USA, May 2002
Engineer: Manfred Knoop
Mixing Studio: Power Sound Amsterdam
Engineer: Paul Pouwer
Photography: Hans Sirks
Cover Design: Jan Peerik, Studio vijf over vijf
STICHTING JAZZ IMPULS
Middendijk 61
The Netherlands
fax +31 (0) 571 29 18 93
[email protected]
www.jazzimpuls.com
Distribution in Benelux by: Munich Records. [email protected]
---
Notes:
Deborah Brown
Born in Kansas City, Missouri, USA, Deborah's musical talents have propelled her from coast to coast in the USA as well in Europe and Asia. Performing in concert halls, jazz clubs and festivals, radio and television she has made a name for herself with appearances in more than 50 countries around the world.
Deborah Brown recorded or performed with Michelle Legrand, Toots Thielemans, Johnny Griffin, Slide Hampton, Clark Terry, Cedar Walton, Red Mitchell, Hein van de Geyn, Roy Hargrove, Monty Alexander and many others
She lives fro 12 years in Europe where she taught at difference conservatories. Former students of Deborah were: Fay Claassen, Lydia van Dam, Francien van Tuinen, Denise Jannah and Ronald Douglas.
---
The Jazz Impuls Foundation was founded among other things for the purpose of supporting jazz musicians which deserve greater recognition. Another important purpose is to join American and European musicians in recording sessions together. Joris Teepe (born and lived in Holland) had a great part in this recording. He was not only the magnificent bass player but also arranger of most of the songs and producer of the project. Moreover, he met Deborah during the years that he studied at a conservatory in The Netherlands where Deborah was teaching, and asked him to play on her tour.
It was obvious that this combination having in advance already a magical touch, had our full interest to support such a project. Deborah, unquestionably one of the world's best female jazz singers, Joris in the meantime the most famous Dutch jazzman in New York, assisted by George the tremendous piano player and Gene as a world famous drummer; the musicians in this combination couldn't fail to realize the most beautiful music. And they did.
– Bob Hagen
---
I've been very fortunate to have met Deborah Brown early in my career. While I was still in college (the Hilversum Conservatory in Holland, she was teaching there) I was lucky to be hired to work with her in Holland, Belgium, and France. Back then, she sounded just as great and after I graduated, I realized she had influenced me a lot because she was approaching music as a musician, more than any vocalist that I ever had met. Now, 15 years later we've been able to reconnect and it has absolutely confirmed my admiration. On this recording you can hear what I mean: the combination of her knowledge, skills, and talent makes her such a complete musician. She is not just singing the song, she takes it further, in a way an instrumentalist can do. This gave me different ideas for producing and arranging the music for this album. Deborah had to sing the song, takes a solo, sings a bass line, sings a drum fill and all of that at weird tempos and difficult keys. Instead of sending me back to my piano, she did it not only with ease, she even took things further and came with great ideas to complete the arrangements.
Well, having Gene and George with us was the best we could dream of, what a great band.
It makes me realize what a blessing it is to be a musician.
– Joris Teepe
---
Life always has a way of surprising you. I'm talking about the little things. For instance, I met Joris while teaching at a conservatory in the Netherlands. Who would have known that years later, he would move to New York City, become a producer, and ask me to participate in this project.
I love the jazz standard repertoire. It offers so much variety and with a twist here and there, it can be updated. Like adding a scarf or belt to a Chanel suit from the 40's. Classic, timeless… no matter what you do to it!
This CD though is totally different! What a challenge!
Joris kept at me to let go of my normal approach to arranging a tune. He wanted to arrange everything! He pushed me off the musical cliff. We tugged at each other verbally. We both apologized for the pull and tug and what happened was this… a totally fresh sound unlike anything I've heard and yet so comfortable and familiar you just have to sit back and take it all in. Please do relax, sit back, take it in and never mind what it took for us to get it on a cd. We love it, Hope you do, too
– Deborah Brown
I'd like to thank Bob Hagen, Joris Teepe, George Colligan, Gene Jackson, Philip Harper, Nich Anderson. You ALL are the finest.