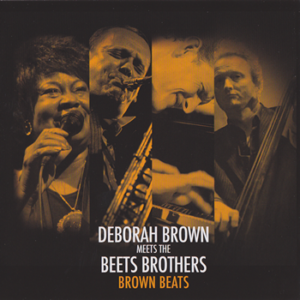 Deborah Brown Meets The Beets Brothers: Brown Beats
Maxanter CD
MAX 75997
01) Yesterdays (Jerome Kern, Otto Harbach)
02) Falling In Love With Love (Richard Rodgers, Lorenz Hart)
03) Do Nothing 'Till You Hear From Me (Edward "Duke" Ellington, Bob Russell)
04) What Is This Thing Called Love? (Cole Porter)
05) Whisper Not (Benny Golson, Anita O'Day)
06) Someone To Watch Over Me (George Gershwin, Ira Gershwin)
07) Gershwin Medley
'S Wonderful (George Gershwin, Ira Gershwin)
They Can't Take That Away From Me (George Gershwin, Ira Gershwin)
08) Boplicity (Bebop Lives) (Miles Davis, Ray Passman)
09) Sinatra Medley
Fly Me To The Moon (Bart Howard)
Bewitched, Bothered and Bewildered (Richard Rodgers, Lorenz Hart)
Angel Eyes (Matt Dennis, Earl Brent)
Just One Of Those Things (Cole Porter)
Deborah Brown (vocal)
Alexander Beets (tenor saxophone)
Peter Beets (piano)
Marius Beets (acoustic bass)
Gijs Dijkhuizen (drums) (1-2, 4, 5-8)
Eric Ineke (drums) (3 & 9)
Recorded: September 6,7 2012
Studio Smederij, Zeist, The Netherlands
Edited and mixed by Peter and Marius Beets
Produced by Peter and Marius Beets
Executive producer: Alexander Beets
Artwork: Susan Leliveld
Mastering: Paul Wickliffe at Skyline Studios, New York
Photography Album Cover:
Deoborah Brown by Sandra Grodijn
Alexander Beets by Thomas Huisman
Peter Beets by Jos Knaepen
Marius Beets by Hans Speekenbrink
Booklet Photo: Cees Schrama by Hans Speekenbrink
© 2014 CD MAX 75997 MAXANTER RECORDS
22b 3833 GP The Netherlands +31 (0)334557199
[email protected] | www.maxanter.com
Also available at www.jazzrecords.nl
Notes:
Listening to this album, one definitely gets the impression of hearing a nightingale soar above the powerful Beets Brothers and their respective excellent percussive backbones, either Gijs Dijkhuizen or Eric Ineke.
Deborah Brown, originally from Kansas City, has travelled far and beyond and recorded extensively with great jazz and world musicians. In this new album, mainly filled with American standards, she is really outdoing herself. Just check out the various scat vocals, and wonder at the way she interprets the timeless lyrics, bending the famous lines no end! She kneads and moulds the melodies with an absolute perfect pitch and a bravura that embraces and enthrals all her followers.
She is majestically assisted by the highly talented brothers: Peter, as always impeccably dexterous, at the keyboard, Alexander, steadfast and powerful with the Big Horn, and extreme bass player Marius, at the helm as usual in command over the proceedings as far as tempo and rhythms are concerned. He should be, for he is also responsible for the delightful and intricate arrangements, that enable Deborah to explore the range of her tremendous vocal abilities. Especially noteworthy are the renditions of some of the old masters: Duke Ellington, the Gershwins, Miles & Gil Evans and Matt Dennis!
Remember when medleys were still in style? Well here is a couple of new ones that makes you wonder why ever they faded away.
All in all, this is a wonderful album. Thanks to the impressive Miss Deborah Brown and the in-between solo's of the members of one of Holland's greatest groups: The Beets Brothers.
Nuff said, turn it on
– Cees Schrama