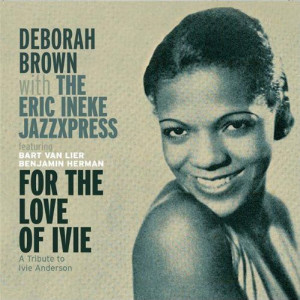 For The Love Of Ivie
A Tribute to Ivie Anderson
Deborah Brown
with The Eric Ineke JazzXpress
featuring Bart van Lier and Benjamin Herman
Daybreak Records
DBCHR 75424
1) Mood Indigo (D. Ellington/I. Mills/B. Bigad) Arr. R. Van Bavel
2) It Don't Mean A Thing (If It Ain't Got That Swing) (D. Ellington) Arr. M. Beets
3) Your Love Has Faded (B. Strayhorn/D. Ellington) Arr. M. Beets
4) I'm Satisfied (D. Ellington/M. Parish) Arr. R. Van Bavel
5) Solitude (D. Ellington/E. Delange/I. Mills) Arr. R. Van Bavel
6) Black Beauty (D. Ellington) Arr. R. Van Bavel
7) It Was A Sad Night In Harlem (A. Lewis/H. Kresa) Arr. D. Brown
8) All God's Chillun (G. Kahn/B Kaper/W. Jurmann) Arr. S. Dijkhuizen
9) I Got It Bad And That Ain't Good (D. Ellington/P.F. Webster) Arr. R. Van Bavel
10) My Old Flame (A. Johnston/S. Coslow) Arr. S. Dijkhuizen
11) I'm Checkin' Out, Goom-Bye (D. Ellingston/B. Strayhorn) Arr. M. Beets
12) Stormy Weather (H. Arlen/T. Koehler) Arr. D. Brown
13) "That's The Version!"
Ivie Anderson was the best vocalist Duke Ellington ever had.  When at the age of twenty-five she joined his orchestra in 1931, she had already proved herself as a singer who could appeal toblack and white audiences alike.  Her versatility was probably the aspect Ellington appreciated most: an uninhibited flaire for the dramatic, the ability to extract the maximum from sentimental songs and the facility to move effortlessly from easy swing into growling, bluesy scatting.
The other members of the band not only appreciated her musicianship, but also fully accepted her as a person.  In very short time she really became 'one of the boys'.  As baritone saxophone player Harry Carney, reliable cornerstone of the orchestra throughout the years, remembered it: "Ivie always came on stage dressed in white, looking angelic, very chic and above it all.  Yet backstage and on the bus, in hotels or restaurants, everywhere, she was always regular one hundred percent, always perfectly capable of taking care of herself.  She was a match for us all, and in those days we behaved like oung ruffians and upstarts.  None of it threw Ivie.  She knew all the jokes, the stories, the jive.  Everyone got along with her."  As the musicians killed a lot of their ample spare time on the road and between performances with card games, it really impressed them that Ivie was also successful in this risky combat area.  "When it came to gambling," Harry Carney recalled, "she could beat most of the boys".
For Duke Ellington she was the first girl singer he hired as a permanent member of the band.  "Although Ivie was not very well known at that time, I son found out that she was really an extraordinary artist and an extraordinary person as well," he wrote many years later.  "She had great dignity and became one of our mainstays and highlights."  Throughout the twelve years she stayed with the Ellington orchestra she suffered from chronic asthma.  In the summer of 1942 it became clear that the ailment made it impossible for her to continue singing and traveling with the band full-time. She returned to her home state California, where she made a success of a restaurant in Los Angeles called the Chicken Shack.  She died in 1949 at the age of forty-four.
Almost sixty years later the idea of a tribute to Ivie Anderson was put forward by producer Fred Dubiez to Eric Ineke, who was keen on doing an album with Deborah Brown and his JazzXpress.  Soon it became clear that everybody liked this project very much.  "Ivie Anderson's unique voice is immediately recognizable," Deborah explains.  "The timbre of her voice makes one feel warm.  She has the quality of someone like a mother, singing you to sleep with a lullaby, and her happy earthy tone on her up tempo tunes makes you feel as though she has life all figured out."  Deborah Brown was born in Kansas City and became a professional singer when she was twenty.  In 1985 she moved to Europe, where she soon made her first record under her own name with trombonist Slide Hampton.  Since then she has sung with many notable musicians, including Johnny Griffin, Toots Thielemans, Benny Bailey, Red Mitchell and Ed Thigpen.  She now lives in the United States.
Since the mid-sixties Eric Ineke has been very active on the Dutch jazz scene, not only working with small goups but also occuptying the drum chair in big bands like the Dutch Jazz Orchestra.  He has been heard with many visitig Americans, among them Dizzy Gillespie, Al Cohn, Hank Mobley, Clifford Jordan and Jimmy Raney.  A few years ago he started JazzXpress, his first band as a leader.
The repertoire of the group is based on the hard bop idiom, closely related to Deborah Brown's undeniable bebop roots.  For this tribute the singer and the leader together selected eleven songs from the more than fifty recordings Ivie Anderson made with Ellington.  Since these are modern interpretations of the original material and not recreations, it seemed fitting to pay homage also to Duke himself by adding an instrumental version of Back Beauty, one of hi earliest and most enduring compositions.  On a number of tracks two well-known Dutch jazz musicians were invited to join in as guests: trombonist Bart van Lier and alto saxophonist Benjamin Herman.
Ten years after the now famous instrumental interpretations of the blues-inflected composition "Mood Indigo" were made, Ellington finally recorded his first vocal version with Ivie Anderson in 1940.  The arrangement of Rob van Bavel adds a Latin tinge to the theme, eliciting emphatic reactions. from Deborah Brown, Rik Mol and Sjoerd Dijkhuizen.  The first record Ivie made with Ellington was "It Don't Mean A Thing Ifn It Ain't Got That Swing".  Its immediate success was or a large part due to the way Ivie strikes a balance between the lyrics and wordless vocals.  While staying true to the title Deborah takes the improvisational element and the rythmic variations much further.  Benjamin Herman plays the saxophone solo.  The music and lyrics of "Your Love Has Faded" were written by Billy Strayhorn before he began to work with Ellington.  In later years saxophonist Johnny Hodges brought this ballad to the attention of a wider public.  It gets a very thoughtful and warm treatment from Deborah and Bart van Lier.  To Ivie in 1933 the recording of "I'm Satisfied" was probably not much more than another commercial effort.  But Rob van Bavel's arrangement throws new light on it by introducing a playful duet between Deborah and bass player Marius Beets.  During the first part of his career "Solutude" was Duke Ellington's biggest hit.  When Ivie recorded it in 1940, Ben Webster played the tenor sax.  In Van Bavel's very smooth arrangement it is Sjoerd Dijkhuizen who assist the singer.  The instrumental version of "Black Beauty" provides solo spts for Van Lier, Dijkhuizen and Mol.  Obviously "It Was A Sad Night In Harlem" was only recorded by Ivie for commercial reasons.  Deborah Brown and Sjoerd Dijkhuizen transform the song into an intimate complaint about a girl who leaves her lover without notice.  In the movie A Day at the Races (1937) Ivie got the chance to give a superb performance of the pseudo-spiritual "All God's Chillun Got Rhythm".  Some ten years later the theme became very popular with bop musicians.  Miles Davis, for instance used its foundations for his "Little Willie Leaps".  Understandably, Deborah feels completely at home with this material, moving into two exuberant scat sequences, the second a sharp dialogue with leader Eric Ineke.
The last significant recording Ivie made beore her forced retirement in 1942, was "I Got It Bad and That Ain't Good", one of the most touching numbers in Ellington's musical Jump for Joy.  The restrained emotion of Deborah Brown's interpretation is reinforced by Benjamin Herman.  "My Old Flame" was introduced by actress Mae West in her film Belle of the Nineties, but when it was released Ivie's record was already available.  Her sensitive way of rendering the music and the lyrics attracted a lot of record buyers.  In her personal interpretation of the song the rhythm section supports Brown very effectively.  "I'm Checkin' Out, Goom-bye" is an infectious swinger with funny lyrics, which Ivie liked very much.  Deborah clearly agrees with her.
Without any doubt "Stormy Weather" was one of the great numbers for Ivie.  In the film Bundle of Blues she was seen singing it very convincingly.  Her finest hour probably occurred when during the band's first visit to London her emotional rendition of this song really brought the house down.  Deborah wanted to do the last chapter of this loving tribute all by herself.
Simon Korteweg – March 2008
Credits:
Deborah Brown – vocals
(except on "Black Beauty"), vocals and piano on "Sad Night In Harlem" and "Stormy Weather"
Rik Mol – trumpet & flugelhorn
Sjoerd Dijkhuizen – tenor sax, clarinet, bass clarinet & baritone sax
Rob van Bevel – piano
Marius Beets – bass
Eric Ineke – drums
The Guests:
Bart van Lier – trombone
Benjamin Herman – alto sax
Eric Ineke plays Sabian cymbals, Premier drums and Pro-Mark sticks and brushes exclusively.
Recorded by Marius Beets at Studio "De Smederij", Zeist, Holland on October 15 & 16 and December 5, 2007
Mixed, edited and mastered by Marius Beets
Photography: Pieter Boersma
Liner notes: Simon Korteweg
Art direction: Marcel van den Broek
Produced by Fred Dubiez
1930s pictures of Ivie Anderson (portrait) and with Duke Ellington in Den Haag (The Hague) 1933: Courtesy Dutch Jazz Archive
Daybreak / Challenge Records International 2008
DBCHR75424
www.challenge.nl