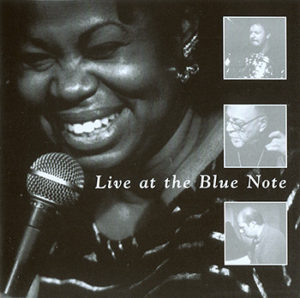 Live at the Blue Note
With the "New Look Trio"
VH Records – VH 1603
1) Doxy (Instrumental Only) (S. Rollins)
2) It Could Happen To You (J. Van Heusen)
3) You'd Be So Nice To Come Home To (C. Porter)
4) In a Sentimental Mood (D. Ellington)
5) Just In Time (J. Styne)
6) I Thought About You (J. Van Heusen)
7) Our Love Is Here To Stay (G. Gershwin)
8) How Deep Is The Ocean (I. Berlin)
9) My Romance (Rodgers/Hart)
10) Them There Eyes (Pinkard-Tracy-Tauber)
11) But Not For Me (G. Gershwin)
12) Bye, Bye Blackbird (R. Henderson/M. Dixon)
13) That's All (A. Brandt/Haymes)
Deborah Brown (USA – voc)
Johan Clement (Holland – piano)
Roger Vanha (Verbeke) (Belgium – bass)
Luc Vanden Bosch (Belgium – drums)
Recorded live at Halle's Blue Note Cafe on March 16, 1997
Live recording on DAT by Michel Philippin.
Sound processing and editing by Dany Bernard in "Bert's Studio" (Wezemaal/Belgium)
Pre-mastering and printing by "Digipro" (Brussels) in May 1997
Photos: Freddy Huggenberger and Christian De Bolster
Liner notes: Freddy Huggenberger
Translations: Michael Leahy (English) and Sim Simons (Dutch)
P.R. & Booking: Roger Vanha – Phone: (00) (32) 2 343.87.62
We want to express our gratitude to the management of the "Brussels Hilton International Hotel" and the "Brussels Hilton Residence" for the wonderful and spontaneous support of the "ARTISTS".
We thank Mr. Hedwig De Koster for his persisting efforts in keeping "Jazz Music" alive and well in his "cosy place".
Thanks to Mr. Didier Baudoux for his welcome help.
The marvelous musical story is due to the creative spirit of Mr. Freddy Huggenberger, the remarkable English translation was archived by Mr. Michael Leahy and the excellent Dutch part thanks to the talent of Mr. Sim Simons.
Notes:
There is nothing like a "Live Performance", in a joyous atmosphere (The Blue Note Cafe in Halle, Belgium), a swinging rhythm section (Roger Van Haverbeke's New Look Trio), supporting one of The Great Singers of our time, Deborah Brown.

A native of Kansas City, her taste and musical talent with sincerity, gives us a perfect example of what true art in modern music is all about. Be it ballads or any swinging tempo, Deborah has the ability to finesse every phrase in a manner that will instantly satisfy!

The rapport between the musicians of the trio and the audience during this session was just what was needed to give Deborah the opportunity to exhibit her musical joys for everyone's delight! ENJOY !!!!!!
– Johnny Griffin


The days when the lady jazz singers, the "black and white canaries", could be found fronting the legendary big bands of jazz's golden age are lost in the mists of time. As are the nights when they drew the audiences into over-crowded clubs in Harlem and 52nd St, New York's "Swing Street".

Free jazz in the sixties, and in its wake fusion brewed by increasingly disheveled distillers
of blue notes, pushed the jazz singers to the side of the road. Those with a name were lucky enough to find refuge in plush clubs. The others faced a future as muted as the trumpets that once accompanied them. In 1978, Carmen McRae noted, "I am pessimistic concerning the future of vocal jazz. Jazz singing, as we know it, is a dying art". Eight years later, Dee Dee Bridgewater said it in another, briefer way (but with evident common sense): "We absolutely have to rediscover the values of the 'old music'". She was speaking to the magazine Jazz Hot in May 1986.

I heard Deborah Brown for the first time one year later. I was immediately struck by her voice, which has an exceptional range, her mastery of rhythm and her swing I was also struck by the themes sung by this voice which generated nostalgia of another age. Love at first note, seduction and nostalgia are not the best basis for objectivity. But there was no doubt that Deborah was bringing to the vocal scene an art of singing once defended by the Billie – Sarah – Ella triad.

From the Netherlands where she settled and taught at the Hilversum Conservatory – after a long stay in Brussels – Deborah made several visits to Belgium. At each of the concerts, one could only notice that like the finest wine, Deborah was improving with age. Her voice was taking more body, the harmony and technique were bring fine-tuned, the pacing of the voice was ever more precise, while the scat was developing more personality.

After returning to live in Atlanta, Georgia, USA in 1995, she came back for a long overdue tour in the spring of 1997. Progress – again – was on the menu. Fullness and maturity had now been reached.

For ten years already, Roger Van Ha and the New Look Trio have been her brothers in arms. They put together the repertoire of this album of "old music", which underwent a lively facelift. One of the most essential ingredients in jazz – now unfortunately stored on the back shelf – is melody. It was particularly in favour in the thirties and forties, through the talented music makers of Broadway who provided an inspirational starting point for free-wheeling improvisations. It was a wise choice of Deborah and the New Look Trio to dip freely into the box of standards left to us by the little geniuses of the musicals.

"It Could Happen To You" was written by Jimmy Van Heusen for the film "And the Angels Sing" (1939). With this melody made popular by Jo Stafford and Bing Crosby, Deborah brings us into her world of scat.

Jimmy Van Heusen is also responsible for "I Thought About You", which was success for Benny Goodman and Mildred Bailey. What would they have thought of a bossa-nova version?

In 1942 Cole Porter wrote the music and words to "You'd Be So Nice To Come Home Tp" for the film "Something To Shout About". Johan Clement gives a good example of the clarity of his playing. Luc Vandenbosch on brushes and Deborah trade licks in 4/4.

Several specialists suspect that Duke Ellington was helped by his sax player Otto Hardwick fr the writing of "In a Sentimental Mood". In an atmosphere closer to Debussy than Ellington, Johan Clement introduces the theme, before accompanying Deborah with just a few – but well-chosen – notes.

It was obvious that the Gershwin brothers, George and Ira, would turn up in the programme. "But Not For Me" comes from the Broadway show "Girl Crazy", which premiered on October 14, 1930. As for "Our Love Is Here To Stay", composed for "Goldwyn Follies" in 1938, it was probably the last melody George wrote before dying. Deborah and the New Look Trio's interpretations is without a doubt the high point of the CD. The pretty melody is developed and then takes off thanks to the complicity and the obvious cohesion of the group. Roger Van Ha grants us a highly melodic bass solo, which Johan Clement sketches a swing a la Erroll Garner.

The orchestras of Paul Whiteman and Guy Lombardo popularised Irving Berlin's "How Deep Is The Ocean", as did Bing Crosby. The composer would be speechless if he heard Deborah's version, where she plays with the full flexibility and range of her voice (and let's not forget a thick coat of scat). Fans of the style can enjoy more scat in "Just In Time", composed in 1956 by the lesser-known Jule Styne for the Broadway musical "Bells Are Ringing".

Roger Van Ha's a capella bass leads the way for Deborah on "My Romance". Johan Clement tiptoes through the melody, before stepping forward to spread some of his blue notes.

"Them There Eyes", by Maceo Pinkard, was first heard when Big Crosby and the Rhythm Boys sang it in 1931. In its 65 years, it has never been played at the fiery tempo at which Deborah sings it. Credit must go to the rhythm section during these few minutes of truth, and particularly Luc Vandenbosch's sticks and brushes in a marathon of skin and cymbals.

Two appropriate tunes are used by Deborah and the New Look Trio to say farewell to the audience of the Blue Note in Halle: "Bye, Bye Blackbird" and "That's All".

La Palice might have said that if good things have an end, then they also had a beginning. On this case, the opener to this rich menu of melody, rhythm and swing was Sonny Rollins' "Doxy". arranged for the New Look Trio alone.

Coda: Jean-Paul has been credited with saying, "Jazz is like bananas, to be eaten on the spot". Which is true. CDs recorded in studio are often only one side of jazz, one of its reflections. This album is of interest as it does not come from the frozen food section, but the fresh counter. It offers a cocktail of melody, harmony, beat and to top it all, the incomparable atmosphere of a club with the current flowing between the audience and the musicians, who are both nervous and stimulated by the need to avoid mistakes.

Several Belgian and other jazzmen, but also fans, had the opportunity o listen to the original tapes of this concert. They were unanimous, it is a total success. And what do they think of Deborah? It can be summed up in four words: "A star is born".

– Freddy Huggenberger
Hot Club of Belgium