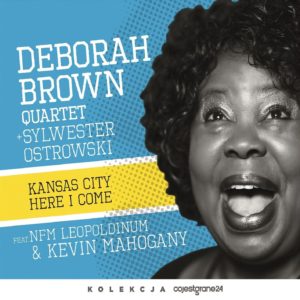 Deborah Brown Quartet + Sylwester Ostrowski:
Kansas City Here I Come
featuring: NFM Leopoldinum & Kevin Mahagony
01) Ask Me Now (Music: Thelonious Monk; Lyrics: Carmen McRae; Arrangement: Rob Horsting)
02) Teach Me Tonight (Music: Gene De Paul; Lyrics: Sammy Cahn)
03) Lullaby Of Birdland (Music: George Shearing; Lyrics: George David Weiss)
04) My One And Only Love (Music: Guy Wood; Lyrics: Robert Mellin)
05) Before It Was Fun (Music: Dana Landry; Lyrics: Deborah Brown)
06) Kansas City Here I Come (Music: Jerry Leiber; Lyrics: Mike Stoller)
07) Summertime (Music and Lyrics: George Gershwin; Arrangement: Joris Teepe)
08) How Deep Is The Ocean (Music and Lyrics: Irving Berlin; Arrangement: Henk Meutgeert)
09) Pannonica (Music: Thelonious Monk; Lyrics: Carmen McRae; Arrangement: Rob Horsting)
10) Cry Me A River (Music and Lyrics: Arthur Hamilton)
Buy at CDBaby.com
Deborah Brown (vocal)
Sylwester Ostrowski (tenor saxophone) 1, 3-7, 9
Rob Bargad (piano)
Essiet Okon Essiet (double bass) 1-4, 9-10
Joris Teepe (double bass) 5-7
Newman Taylor Baker (drum set)
Guests:
NFM LEOPOLDINUM (chamber orchestra and Christan Danowicz)
Special Guest Star:
Kevin Mahogany (vocal) 2, 4
Plyte Nagrano 4-5 Marca Oraz 17 Czerwca 2016 R. W Recpublica Studio, Lubrza, Polska
www.recpublica.pl
Realizacja Nagran, Mix: Lukasz Olejarczyk, Recpublica Studio
Mastering: Alan Silverman, Arf!Mastering, New York City, NY, USA
www.arfproductions.com
Producent: Sylwester Ostrowski, So Jazz
Management: Anna Giniewska, So Jazz
[email protected] | www.szczecinjazz.eu
Photos: Jim Barcus (1), Konrad Nowak (10)
Cover Photo: Jim Barcus
Projekt Graficzny: Hubert Skoczek | www.spoks.com
Sylwester Ostrowski – Za Pomoc W Realizacji Projektu Dziekuje
Ekipie Szczecin Jazz, Szczecinskiej Agencji Artystycznej, Miastu Szczecin, Salonowi Muzycznemu Fan Ze Szczecina | Narodowemu Forum Muzyki Z Wroclawia
Szczegolne Podziekowania Skladam Eli I Januszowi Wysockim, Eli Malanowskiej, Jackowi Wisniewskiemu, Pawlowi Szynkawukowi, Markowi Lamertowi, Cezaremu Figurskiemu I Jedrkowi Beygerowi Za Wieloletnia Przyjazn I Wsparcie.
Liner Notes:
It's a thrilling chilly evening in Kansas City. The streets are empty, but the bars and clubs are teeming with life. In one, on a small stage, there's a jazz trio playing. At some point, the leader, the pianist, notices Deborah Brown in the audience. She flashes a big, warm smile, nods her head slightly and joins the band on stage. And she shines. Without a shred of embarrassment, full of confidence, concentrated, but with an aura of great charm, Deborah starts to sing. And the magic begins. Conversations come to a standstill, the audience is speechless. After a few minutes, Brown takes a bow and returns to her seat, knowing that, today, she was just a guest and the stage goes back to the hosts. The bar chatter returns, but the atmosphere is different – we experience something fleeting but unique. Americans use the lovely but hard-to-translate term "poetry in motion," reserved for those who are full of natural grace and elegance. Brown fits this perfectly.
Two months after this concert, Brown comes to Poland in March 2016 not only to record but really to conjure up the album "Kansas City Here I Come", with classic, swinging, hypnotic melodies accompanying the vocalists beautiful voice. She records in studio with the American stand up bassist of Nigerian descent, Essiet Okon Essiet, Dutch bass player Joris Teepe, legendary New York drummer Newman Taylor Baker, pianist Rob Bargad, vocalist Kevin Mahogany, the NFM Leopoldinum chamber orchestra from Wroclaw and saxophonist and creator and head of the Szczecin Jazz Festival, Sylwester Ostrowski. It was actually him who invited Brown to Poland to play at his festival, then they recorded an album together in tribute to the city that shaped Deborah musically and brought the world so much great jazz. "Today, I feel like I'm more a citizen of the world than from one city or place. It's because, for most of my life, I have been constantly traveling. I am, of course, happy that I was raised in a city so full of jazz. Musicians from Kansas City have their own sense of rhythm, their own sense of style. Just as musicians from New Orleans have their own style that you recognize, so do we", says Brown.
Deborah Brown is a rather unusual character; she's both a jazz icon and a jazz eminence. She breathes, thinks and feels jazz. Her stage is the whole world – she has performed in over 50 countries, from Asia, through the Middle East, the Americas and Europe, where she regularly gives jazz lectures at the music conservatory in Groningen (the director of which is bass player Joris Teepe). Brown has played not only in clubs and concert halls, but she has surprised passengers on Szczecin trans with song, or on a boat on the Odra River where she was accompanied by the previously-mentioned NFM Leopoldinum chamber orchestra (as part of the project "Pd Prad", co-organized by the National Forum of Music in Wroclaw).
The album you are holding is a complement to Deborah Brown's Polish adventures. It's both a souvenir and documentary piece in one, proof that jazz is inter-generational, reaches beyond borders and disregards nationality. "I am counting on showing Poles the Kansas City rhythm, to present and translate it in a way that, if they hear music from that city, they will recognize it as being from Kansas City right away", says Brown with a big, confident smile on her face.
– Lukasz Kaminski
CO JEST GRANE 24
Special Thanks to Deborah Brown for Great Sound and Love.
Sylwester Ostrowski – Gra Na Saksofonie Marki – Yamaha Custom Z
© 2016 Wydawnictwo Agora. Wszelkie prawa producenta wlasciciela nagranychutworow zastrzezone. Z wyjatkiem przypadkow przewidzianych przez prawo – kopiowanie, wypozyczanie oraz publiczne odtwarzanie – rowniez przez radio – niniejszej plyty bez zezwolenia jest zabronione. Plyta stanowl integralna czesc ksiazki "Kansas City Here I Come".
Wydawca:
Wydawnictwo Agora
ul. Czerska 8/10, 00-732 Warszawa
Robert Kijak – dyrektor pionu Projekty Specjaine
Joanna Cieslewska – menedzer projektow muzycznych
Available: