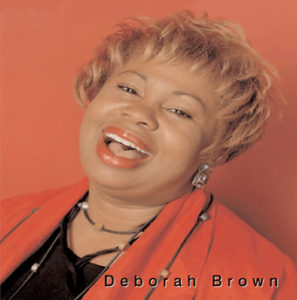 International Incident
33 Jazz Records
33JAZZ078
1) Take My Hand (J. Griffin / D. Brown) – Arr. C. Gijsing
2) Lonely Woman (H. Silver / L. Feather) – Arr. C. Gijsing
3) Silver Blues (H. V. D. Geijn / Suzie Scragg) – Arr. H. V. D. Geijn
4) Make Up Your Mind (J. Griffin / D. Brown) – Arr. N. Panov
5) Western Ballad (Z. Namyslowski / D. Brown) – Arr. Z. Namyslowski
6) Danse Du Petite Geant (H. Sellin / D. Brown) – Arr. H. Sellin
7) For The Time Being (B. Joris / S. Scragg) – Arr. B. Joris
8) A Child Is Born (T. Jones / A. Wilder) – Arr. M. Raberg
9) Atonal (B. Joris / S. Scragg) – Arr. B. Joris
10) What Comes Up (J. Teepe / D. Brown) – Arr. N. Panov
11) Always And Forever (P. Metheny / D. Brown) – Arr. D. Brown
12) For The Time Being (reprise) (B. Joris / S. Scragg) – Arr. D. Brown
Deborah Brown – vocals & piano (11 & 12)
Zbigniew Namyslowski – alto & sopranino saxophone
Nicolai Panov – tenor & soprano saxophone
Mikael Raberg – trombone
Bert Joris – trumpet & flugelhorn
Ernst Reijseger – cello
Herve Sellin – piano
Hein Van De Geijn – bass
Keith Copeland – drums
Chris Joris – percussion
Recorded at Studio 44, Monster, Holland
2003
Engineered by Max Bolleman
Mastered by Simon Murphy at SRT, St. Ives, Cambridge UK
Produced by Michael Hansen
Executive producer for 33 Records: Paul Jolly
Artwork, design: Studio 33
Cover photo of Deborah Brown: John Clemmer
Musicians Photos: Mac Davidson
International Distribution via:
Now Note (Pinnicle) UK
Cadillac UK
Tokyo-M-Plus in Japan
Kang & Music in Korea
Jingo Records in Taiwan
North Country in the USA
For European sale, contact Mike Curtis:
Tel: + 32 2 374 5405
email: mike.curtis@belgacom.net

Notes:
Kansas City born, Deborah Brown is simply one of the great jazz vocalists of our time.

Her career has included recording, touring and performing with artists like Johnny Griffin, Benny Bailey, Horace Parlan, Ed Thigpen, and Slide Hampton. Her extensive tours have seen her develop a strong and ever growing fan base in Europe and the Far East.

On this album, Deborah is joined by a fantastic group of musicians with whom she has worked with in the past.

Representing seven countries – this album is a truly "International Incident"
---
Making music is often described as a "labor of love", and it has certainly been that in my career. I have had the pleasure of playing music with so many talented people in so many countries. I've also been fortunate to enjoy their company and develop some close friendships with a number of these musicians. I have always wanted them to meet each other but, that was just wishful thinking until "International Incident".
As an artist, breaking new ground is so important for development. I had sounds that existed in my mind but nobody but me was experiencing them. These sounds were put there by musical experiences and my imagination but almost always tied to a certain musician and his instrument. I love the freedom of singing with a trio but I also enjoy the power and pallette of a swinging big band. "International Incident" gives me the intimacy to deliver a lyric and the energy to get "lift" as (Russian bigband leader) Oleg Lundstrem so aptly described.
It is an understatement to say that I'm happy to introduce each of these friends of mine to you now… I'm tickled! Space dictates a short introduction so I cannot let you know their complete musical bios… they have done it all… suffice to say!
Herve Sellin (piano). France
Aside from his obvious talent as a pianist, composer and arranger, Herve's humor sets him apart… playing ragtime with gloves on as we were packing up to leave a TROS Sesjun radio broadcast.
Hein Van De Geijn (acoustic bass). Netherlands
We go way back to the Jack Van Poll Trio, "Euroboppin" with Johnny Griffin, Benny Bailey, Horace Parlan and Eg Thigpen. "Jazz4 azz" when he permanently stepped in for Red Mitchell. One of my favorite composers ("Spring Fever", "Silver Blues") and a bass player beyond compare.
Keith Copeland (drums). USA
I met Keith when he was introduced (and recommended highly) by Horace Parlan. A tasty timekeeper that I can trust with the beat… always in the pocket with imagination and an intuition that always amazed me.
Zbigniew Namyslowski (alto & sopranino saxophone). Poland
A true virtuoso who started on cello and trombone (sorry I missed that) and a great friend… composer/arranger.. jazz hero… showed me what dedication to art is all about.
Nicolai Panov (tenor & soprano saxophones). Russia
Arranger extraordinaire and a sometimes startling soloist from the Oleg Lundstrem Orchestra. We met at a "one off" concert in Holland and ended up touring Siberia and the Ukraine with Nicolai's "Jazz Gallery". I can count on Nicolai for fresh, original arrangements like "What Comes Up" for "International Incident".
Mikael Raberg (trombone). Sweden
Swedish Grammy winner for the "Streets of Gold" CD with his orchestra. Mikeal is a real genius with a pen and music paper. In the Slide Hampton class of smooth trombonists, his sound is what I hear when I'm thinking musically. His dry humor invades everything that he does.
Bert Joris (trumpet & flugelhorn). Belgium
Bert is another of my favorite composers. I liked "For The Time Being" so much that I have done it twice on this CD! A versatile soloist and superior arranger makes him in demand and hard to schedule but we managed to include him.
Chris Joris (percussion). Belgium
No relation to Bert other than in their shared musicality, Chris came in and added some spice to the proceedings. I have admired his originality and ability to improvise so freely wit the bag full of oddball instruments.
Ernst Reijseger (cello). Netherlands
We met after a Clusone Trio concert (the killed me) and when I was planning "International Incident" I asked Ernst to provide some contrast to the project. He is an innovator on cello and willing to "go out" and find his part in unfamiliar surroundings (i.e. my piano playing).
So now you have "International Incident", and you have met some of my talented friends. I hope that you enjoy our efforts and remember to support jazz in the future.
All my best.
Deborah Brown 2003